Sharp uptick in housing sentiment post-federal election in some states: Westpac
Consumer sentiment towards the housing market has certainly lifted following the election.This article from Domain.com.au explains the results.
Consumer sentiment towards housing has been boosted across some of Australia even before taking into account the re-election of the federal Coalition and key monetary policy changes, Westpac Australia Economics says.
Sentiment in NSW toward house prices has taken a sharp turn upwards, likewise Tasmania.
The response was more muted in the national results, and in Victoria, Queensland, the ACT and the remaining states and territory, Westpac #Housing pulse #May #2019 by @GillandDebello #2019 #australia https://www.slideshare.net/GillandDebello/westpac-housing-pulse-may-2019 released on Tuesday, shows.
"Prices have continued to decline but at a slower pace. Turnover remains very low but auction markets and listings are showing an improved tone," the report states.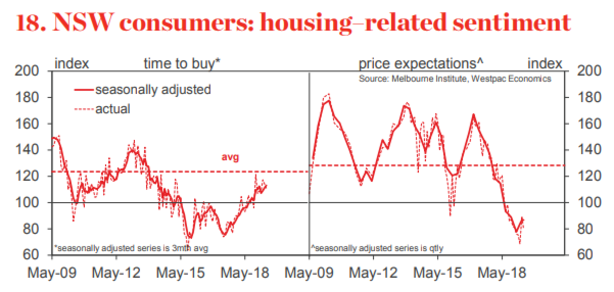 Consumer sentiment about whether it is time to buy has been trending upwards for about 12 months across Australia.
Since the election, the Australian Prudential Regulation Authority has removed a restriction key to slowing the flow of credit.
The restriction was a policy which required mortgages to be stress tested for repayments at a 7 per cent interest rate.
APRA will now allow banks to set their own stress-test rate.
The Reserve Bank has also given strong indications that it will cut cash rates to a new historic low of 1.25 per cent at next week's meeting, with some pundits predicting another cut later in the year.
These, combined with the apparent death of Labor's tax reforms and the planned introduction of the Coalition's first-home buyer guarantee scheme, have prompted some property experts to rethink dire predictions.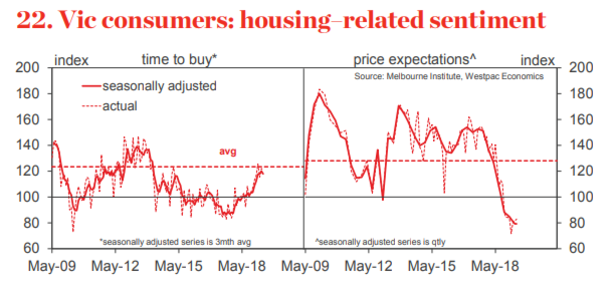 AMP Capital chief economist Shane Oliver was the first to predict a top-to-bottom fall of 20 per cent across the capital cities, but revised it down to 12 per cent and indicated he believed the market had just about reached bottom.
The Westpac report indicated that sentiment may rise further following these changes.
"Needless to say, next month's sentiment results, due out June 12 and surveyed in a week that is expected to see the RBA's first 25 basis point rate move, will be of intense interest," it stated.
Read the full article here
Rebound is on
House prices are rising in Sydney & Melbourne.
With the blindingly obvious caveat that an index doesn't denote anything meaningful for individual properties, metropolitan housing prices are now rising again.
Sydney and Melbourne home values both rose over the week for the first time since all the way back in 2017, with a 0.3 per cent gain for Sydney, and a marginal increase in Melbourne.
Commonwealth Bank CEO Matt Comyn reported the largest volume of loan applications in six months this week, now that the looming threat of wholesale changes to taxation has been extinguished.
Whether or not those loans are approved on a timely basis…let's see.
Read the full article here
J.P. Morgan expects the RBA will slash Australia's cash rate to 0.5%
Are we in for an interest rate cut?
According to an article on Business Insider interest rates are set to drop to 0.5% by the middle of next year.
J.P. Morgan has just taken the lead when it comes to the most aggressive forecaster for RBA rate cuts in the year ahead.
In a note released on Wednesday, the bank said that it now expects the RBA will slash Australia's cash rate to just 0.5% by the middle of next year, a full 100 basis points below the level where it currently sits.
Previously, J.P. Morgan was forecasting the RBA would deliver two 25 basis point rate cuts this year, taking the cash rate to 1%, around the same level currently expected by financial markets.
So why the change in view?
According to Sally Auld, Chief Economist and Head of Australia and New Zealand Fixed Income and FX Strategy at J.P. Morgan, it's because 50 basis points is unlikely to be enough to lower unemployment and boost inflation in her opinion.
"Core inflation has fallen 0.5 percentage points in the last 12 months and is now expected to track a lower path in coming quarters relative to the RBA's expectations earlier this year," Auld wrote.
"Not only is the real cash rate [the nominal level less inflation] now at its highest level in three years, but a lower level of inflation implies that more than 50 basis points of easing will be required to return real short rates to appropriate levels."
Linked to the soft inflation outlook, J.P. Morgan also believes just two 25 basis point rate cuts will be sufficient to lower unemployment to levels consistent with higher wage growth, a necessary ingredient required to help lift domestic price pressures.
"A simple rule of thumb is that 50 basis points of easing should bring the unemployment rate lower by 0.15 percentage points over the subsequent 12-18 months," Auld wrote.
"Assuming a starting level of 5.2% for the unemployment rate, 50 basis points of easing appears inadequate to deliver the macro-economic outcomes necessary to deliver a pick-up in inflation."
Along with downside risks for inflation and a lack of progress in lowering unemployment, Auld says a recent deterioration in the global economy, along with the risk of rate cuts from the Federal Reserve should the U.S. economy begin to falter, are other factors underpinning its forecast revision for the cash rate.
"The structural headwinds facing the domestic economy — a deleveraging of household balance sheets, persistently low incomes growth, a recalibration of lending standards and a rebalancing of economic growth away from housing-related activity — all demand a long period of low rates," Auld wrote.
As for the risks to J.P. Morgan's forecast are "two-sided", implying the RBA may ease less or more than what's currently foreseen.
"On the one hand, we can't be definitive that 0.5% is the effective lower bound for the policy rate in Australia. It may well be lower, and we suspect policy makers are open-minded about this possibility given the experience in other developed economies," Auld wrote, referring to the point where rate cuts fail to deliver any further support to the economy.
"On the other, the low level of government debt relative to GDP in Australia suggests potential for significant fiscal easing that could offset the need for a sub 1% cash rate."
Read the full article here
It's a trifecta of positivity
The post election positive vibes have translated across to the property market.
In this article for Switzer, John McGrath looks at the what's going on.
No changes to negative gearing and Capital Gains Tax (CGT); the strongest indication yet that the RBA will cut interest rates as early as next week; and APRA's decision to lower the interest rate benchmark used for new loan serviceability tests is a trifecta of positivity for the property market.
Credit restrictions have been the biggest challenge in the property market over the past 18 months.
Even good quality loan applicants have had to wait longer for approval (often missing out on the property they want in the process) and/or adjust their budgets due to unexpected finance limits.
It's meant that competition has dropped, leading to dips in home values across the country.
Latest CoreLogic figures show price declines of -2 to -11% across the capital cities over the year to May with the exception of Adelaide, which was barely positive at +0.3%; Hobart +3.8% and Canberra +2.5%.
It's had a particularly noticeable effect in Sydney and Melbourne because the banks got tight with credit right around the peak of the boom, so it has exacerbated the cyclical downturn and forced prices down faster than we've seen in other cyclic downturns for decades.
APRA's decision to let the banks choose their own mortgage rate benchmarks rather than forcing them to continue assessing every applicant's ability to repay their loan at 7% makes a lot of sense.
Interest rates have been low for a long time and there's little doubt they'll go lower as early as next week, so we're well off the long-term average (which is above 7%) and probably will be for a while.
The 7% benchmark was introduced in 2014, during Sydney and Melbourne's boom, to raise the standards of responsible lending.
Following the Royal Commission, which scared the banks more than any other measure into becoming overly cautious with credit, APRA has judged that a high benchmark is no longer needed.
APRA's decision isn't a return to easy lending.
They will still require the banks to use a minimum 2.5% buffer above their advertised rates to assess serviceability.
The change will reportedly equate to 9% more borrowing power.
This will make a real difference in today's market where prices have come off the boil and more value is already available.
If interest rates drop, which is highly likely next week following comments from the RBA Governor earlier this month, then that will mean even greater borrowing capacity.
This week I also want to talk about the Liberal Government's First Home Loan Deposit Scheme, which will allow first home buyers to purchase with a 5% deposit with the government providing a guarantee on the remaining 15%.
It will be available from 1 January 2020 to single applicants earning up to $125,000 or couples earning $200,000.
It will be capped at 10,000 borrowers per year, with purchase price limits by region and they will still need to pass the banks' serviceability tests.
Read the full article here
House built by social media now for sale
Social media has taken over many facets of our lives, and it would seem real estate is no different.
An article on Realestate.com.au looks at a house that was build entirely from social media inspiration.
It's been dubbed "the house that social media built" and now this spectacular beachfront residence could be yours.
Designed entirely from digital inspiration, the industrial, mid-century style property at 24 Malcolm Street, North Beach is the culmination of thousands of snippets found on social media and the internet.
Owner Sasha Ioppolo trawled social media platforms to uncover new, exciting and creative design ideas before teaming up with the award-winning team at Chindarsi Architects who then created the custom design.
Cleverly set on a 500sqm block with beautiful ocean views, the striking three bedroom, two bathroom home has become a feature of the suburb.
"The vision was for a unique architectural home using mid-century influences with industrial low maintenance materials that maximised the views available to the location," Ioppolo says.
"The design was inspired by images collected from other mid-century and industrial homes that we admired from all over the world."
The property is laden with intricate detail, including an unusual concrete ceiling, electronic dog door, art lift over the wall-mounted television and a polished concrete feature staircase.
Outside, there is a saltwater swimming pool.
The alfresco area incorporates marine outdoor speakers, a fridge, dishwasher, stainless steel cabinetry and a built-in barbecue, as well as a robot lawnmower.
Ioppolo says she and her plumber-builder husband lived in the previous property for five years before they decided to demolish to create their dream home.
"We had a strong vision of what we wanted and then sourced an architect based on what we were looking for," she says.
"We were extremely happy to meet the Chindarsi team and were confident in their ability to design exactly to the mid-century/industrial aesthetic we were wanting.
"We love the open plan kitchen living and dining area.
We can appreciate the views of the ocean from various aspects whilst enjoying some of the main architectural features on the home including the concrete wall and the teak cabinetry.
Read the full article here